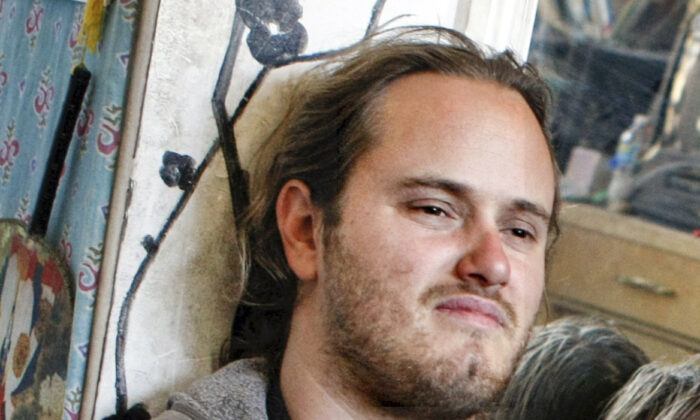 David DePape in Berkeley, Calif., on Dec. 13, 2013. (Michael Short/San Francisco Chronicle via AP)
By Frank Fang
November 2, 2022Updated: November 3, 2022
David DePape, the man who allegedly assaulted Paul Pelosi, was on a "suicide mission" and had plans to target other California and federal politicians, according to a court document filed on Nov. 1 by the office of San Francisco District Attorney Brooke Jenkins.
DePape, 42, appeared briefly in San Francisco Superior Court on Nov. 1 and pleaded not guilty to the attempted murder of Pelosi and other charges. It was his first public appearance since last week's hammer attack on House Speaker Nancy Pelosi's (D-Calif.) husband.
He was ordered held without bail. His next court hearing is scheduled for Nov. 4.
Assistant District Attorney Allison Garbutt Macbeth filed the motion to detain DePape, writing: "This case demands detention. Nothing less."
"Defendant's intent could not have been clearer: he forced his way into the Pelosi home intending to take the person third in line to the presidency of the United States hostage and seriously harm her," the court filing reads. "Thwarted by Speaker Pelosi's absence, Defendant continued on his quest and would not be stopped, culminating in the near-fatal attack on Mr. Pelosi."
"I didn't really want to hurt him, but you know this was a suicide mission," DePape allegedly said. "I'm not going to stand here and do nothing even if it cost me my life."
DePape is alleged to have told Paul Pelosi he "has other targets," the court filing says. Later when the police asked him if he had any other plans, DePape allegedly "named several targets," including a local professor and "several prominent and state and federal politicians" and their relatives.
The court document didn't identify any potential targets.
DePape allegedly told the police he intended to hold the House speaker hostage and interrogate her.
"If Speaker Pelosi lied to him, he intended to break her kneecaps," Macbeth wrote.
Intrusion
The court filing also contains details about what happened before Pelosi was injured.
According to Macbeth, DePape smashed his body through a window to break into the Pelosis' Pacific Heights home, while carrying a hammer and several plastic zip ties. After breaking in, he allegedly confronted Paul Pelosi at his bedside at around 2 a.m. and began asking for the whereabouts of the congresswoman.
Paul Pelosi said his wife was in Washington and wouldn't return home for several days. DePape then allegedly threatened to tie him up—the first of about 10 such threats, the court filing says.
When asked why he was looking for Nancy Pelosi, DePape is alleged to have said, "Well, she's number two in line for the presidency, right?"
After Paul Pelosi agreed to what was said, DePape allegedly went on to say "they are all corrupt" and "we've got to take them all out."
Eventually, Paul Pelosi called 911. But before the police arrived, he "reached out and put his hand" on the handle of the hammer, over his fear that DePape would strike him with it.
Two police officers arrived and, seeing both men with their hands on the handle of the hammer, one of the officers ordered DePape to drop it, but he didn't comply.
DePape then allegedly "wrenched the hammer away" from Pelosi, stepped back, and lunged at him, "striking Mr. Pelosi in the head at full force with the hammer."
"The officers rushed into the house, tackled Defendant, and disarmed him," the court filing says. "Mr. Pelosi remained unresponsive for about three minutes, waking up in a pool of his own blood."
In DePape's backpack, police allegedly found another hammer, a laptop, and bags of zip ties.